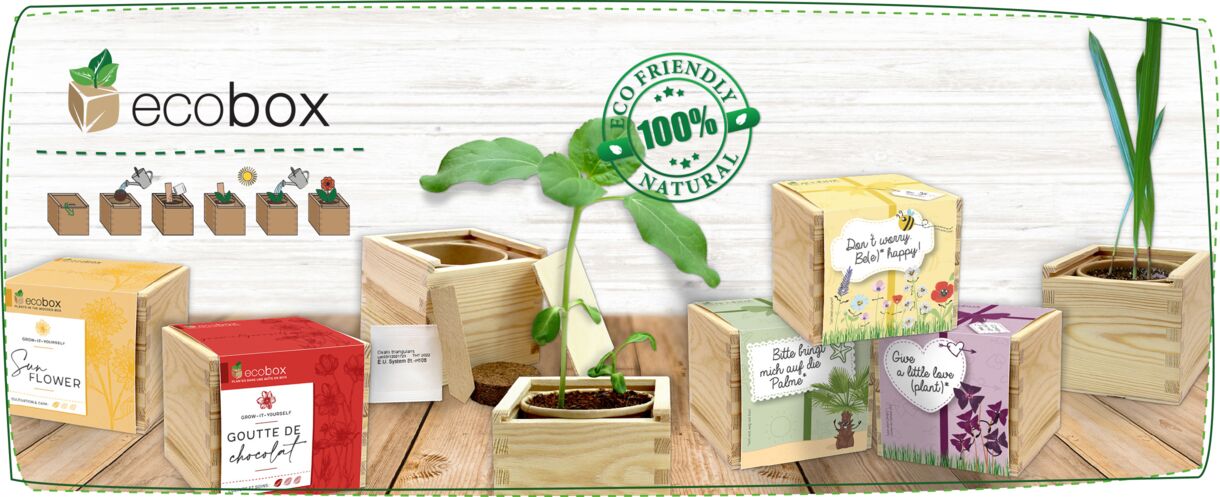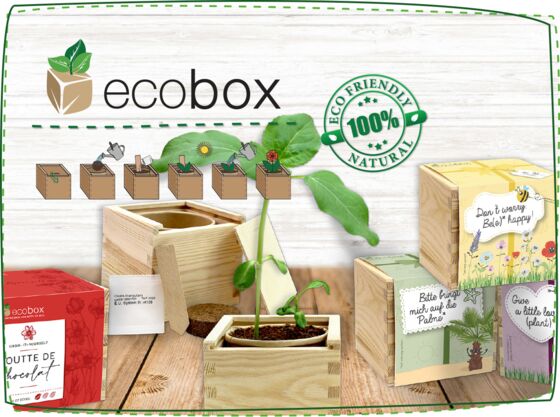 Our sustainable ecobox is a particularly durable DIY (gift) item to give away or keep for yourself! The "grow-it-yourself" wooden box is made of high-quality pine wood and is filled with a compostable plant pot, coconut fibre tablets, a wooden plant stick for labelling (e.g., with the planting date and/or the type of plant), and a small bag of plant seeds. After a short time, the seeds turn into a flower, a palm tree, a Christmas tree and even an aloe vera. With regular care, sunlight and a little patience, a large plant will grow.
The ecobox is available in two different packaging versions - a neutral standard version and a special greetings version with different sayings, which is particularly suitable as a sustainable and funny gift. The wooden box covered by the packaging sleeve and its contents are identical in both versions.
Grow-it-yourself!
...mehr
This is how the ecobox comes to life
Just a few simple steps and the gift item becomes a growing set. It's this easy: place the compostable planting cup in the wooden box and fill it with coconut fibre tablets. For the next step, pour water on the tablets and after a few minutes they turn into earth. Sow the enclosed seeds or transfer flower bulbs. Label the wooden sign and stick it in the coconut fibre soil.
After just a few days, the first green seedlings will sprout and with a little patience and moderate care, a small plant will grow. If the plant is too big for the wooden box, transfer it into a flower pot or into the garden with the compostable plant pot. The wooden box itself can then be used as a gift box or pen holder, for example!

...mehr
Details for reseller
Packaging
unit dimensions: ca. 11 x 11 x 10 cm; ca. 200 g
minimum quantity: 30 pcs. per box
packaging unit: 6 pcs. per plant variety or per design
Material
spruce wood (source: EU)
Bio-Top paper (white)
Available languages
German, English, French & Italian
Shelf life & storage
at least 2 years when stored in a dry place
lucky clover & love plant: max. 3 months (flower bulbs!)