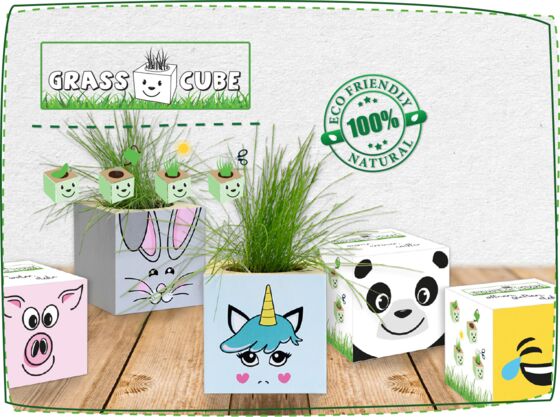 The Grass Cubes are plant-growing wooden cubes with various cute animal designs. They are popular not only with children, but also with adults of any age. The cubes have adorable illustrations with animal designs and are a lot of fun to grow and bring a playful green touch into every living room, play room or office. After about 2-3 weeks, you can use your creativity and go to work and style the grass hair or give it a stylish grass haircut.
The plant cubes are made from high-quality alder wood and are decorated in cooperation with a sheltered workshop with stickers carrying various animal designs.
...mehr
This is how you bring your Grass Cube to life
To bring the Grass Cubes to life, you only need to peel off the sealing sticker from the cube, water it and put it in a bright warm place. After just a few days, the animal heads will start sprouting "hair". After about 14 days, you can give your Grass Cube its first haircut. The grass blades will grow back even more densely and can be "styled" as desired.
...mehr
Farm Animals
Wild Life
Emojis
Details for reseller
Packaging
unit dimensions: 7.5 x 7.5 x 7.5 cm; ca. 150 g
minimum quantity: 30 Grass Cubes per box
packaging unit: 6 pcs. per design
Material
alder wood (source: EU)
Bio Top-paper (white)
Available languages
German, English, French & Italian
Shelf life & storage
at least 2 years when stored in a dry place
Customized Grass Cube carrying your own design