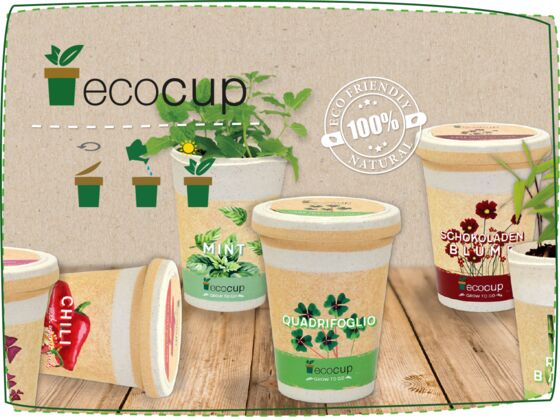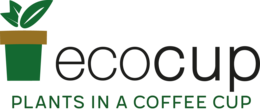 Coffee to go in its most natural form! Our ecocups are particularly eco-friendly mugs in a coffee cup style produced from pressed bamboo fibers and rice husks. Based on our "Ready to grow" concept, they are filled with a natural nutritional granulate mix with the seeds already mixed in.
Our large selection of ecocup products offers everything from flowers and herbs to vegetables all the way to a Christmas tree and a lucky clover. You can even grow your own dwarf banana in the stylish and sustainable plant cups. The ecocups will most definitely make a great gift for the next invitation to coffee and cake at your friends' house, or maybe just be a small token of appreciation to the people close to you.
...mehr
This is how you bring your ecocup to life
With our "Ready to grow" concept, it is really easy to make the ecocups grow – unscrew the top, remove the protective little platelet and water. The plant cup should subsequently be placed in a bright spot and care should be taken that the granulate does not dry out during the sprouting phase. After just a few days, small green seedlings will sprout. With good care, they can be replanted into a bigger flowerpot or to the outside. In this way, these home-grown plants will bring much joy for a long time.

...mehr
Flowers
Herbs
Vegetables
Exotics
Xmas
Details for reseller
Packaging
unit dimensions: 10 x 8 cm; ca. 150 g
minimum quantity: 30 ecocups per box
packaging unit: 6 pcs. per plant variety
Material
bamboo fibers & rice husks
Bio Top-paper (white)
Available languages
German, English, French & Italian
Shelf life & storage
at least 2 years when stored in a dry place
lucky clover & love plant: max. 3 months (flower bulbs!)
Customized ecocup carrying your own design