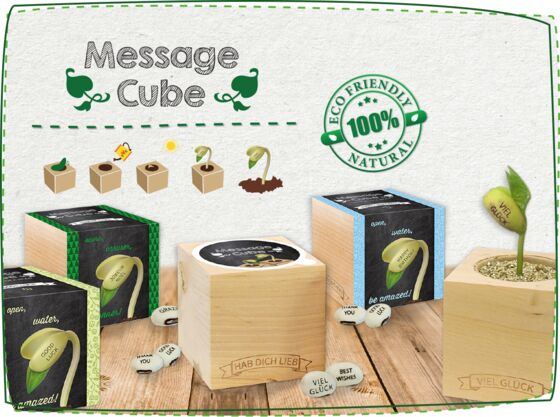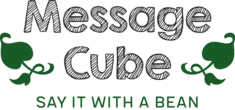 The Message Cubes are the epitome of a sustainable and, at the same time, amazing and funny gift. In the wooden cubes, special beans turn into lovable messengers carrying greetings within a short amount of time. The greeting or thank you that was previously etched into the bean will appear on the first leaf of the beanstalk, which will most certainly amaze the recipient. The Message Cubes are a very trendy, but at the same time also sustainable idea to send one's congratulations in a very unusual way.
The plant will grow into a magnificent bean vine over time, which will sprout many new lucky beans – these, however, without congratulations on the bean! :-)

Important note: Even though the Wonder Bean might look appetizing, it is not edible!
...mehr
This is how you bring your Message Cube to life
Peel the sealing sticker off the cube, add a bit of water and place in a bright and warm spot. The Message Cube will come to life within a few days and a small green bean with a congratulatory greeting will sprout out of the eco-cultivation kit. With good care, a large bean stalk will grow after a short period of time which can then be planted along with its biodegradable planting cup in a larger flowerpot. The biodegradable planting cup will slowly composted and supply the bean with valuable nutrients. The emtpy cube box can then be used as a decorative pen holder, for example!

...mehr
Details for resellers
Packaging
unit dimensions: 7.5 x 7.5 x 7.5 cm; ca. 150 g
minimum quantity: 30 Message Cubes per box
packaging unit: 6 pcs. per design
Material
alder wood (source: EU)
Bio Top-paper (white)
Available languages
German, English, French & Italian
Shelf life & storage
at least 2 years when stored in a dry place
Customized Message Cube carrying your own design