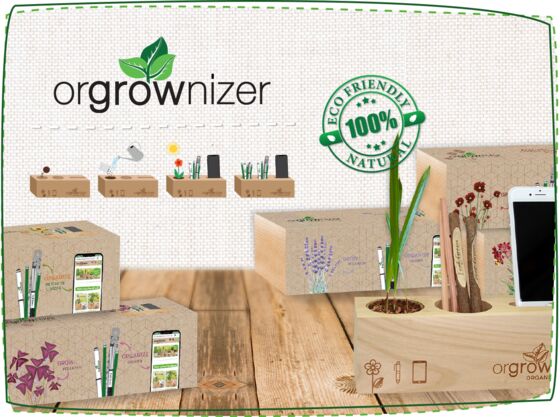 Being organized makes life that much easier!
The orgrownizer stands for a sustainable and practical all-in-one stationery. The left container contains all necessary components to start your own little garden in no time. Just open the container, water the included soil tablet, sprinkle the included seeds onto the soil, and you will see the first little green plants grow after only a few days.
Even people with a less than green thumb become successful gardeners with the airplant version. The small plantlets are super easy to care for. Just spray some water on them approximately 2-3 times a week and that's it.
The orgrownizer is not only a decorative eye catcher in the office – growing the desk organizer also brings great joy.
...mehr
This is how you bring your orgrownizer to life
To open the orgrownizer, carefully remove the sleeve, pull back sticker, and remove the components inside. Place the coconut fiber tablet into the left cup and pour water onto the coconut fiber tablet. The all-in-one stationery will come to life within a few days and small green seedlings will sprout out of the eco-cultivation kit. With good care, the seedlings will grow into bigger plants and can then be planted in a flowerpot or garden.
Sustainable storage for: plants, pencils, and smart phone

...mehr
with plant seeds
with airplant
Details for reseller
Packaging
unit dimensions: 23 x 7.5 x 7.5 cm; ca. 450 g
minimum quantity: 30 orgrownizer per box
packaging unit: 6 pcs. per plant variety
Material
alder wood (source: EU)
Bio Top-paper (white)
Available languages
German, English, French & Italian
Shelf life & storage
at least 2 years when stored in a dry place
lucky clover & love plant: max. 3 months (flower bulbs!)
airplant must be watered after delivery, as it is a living plant!
Customized orgrownizer carrying your own design