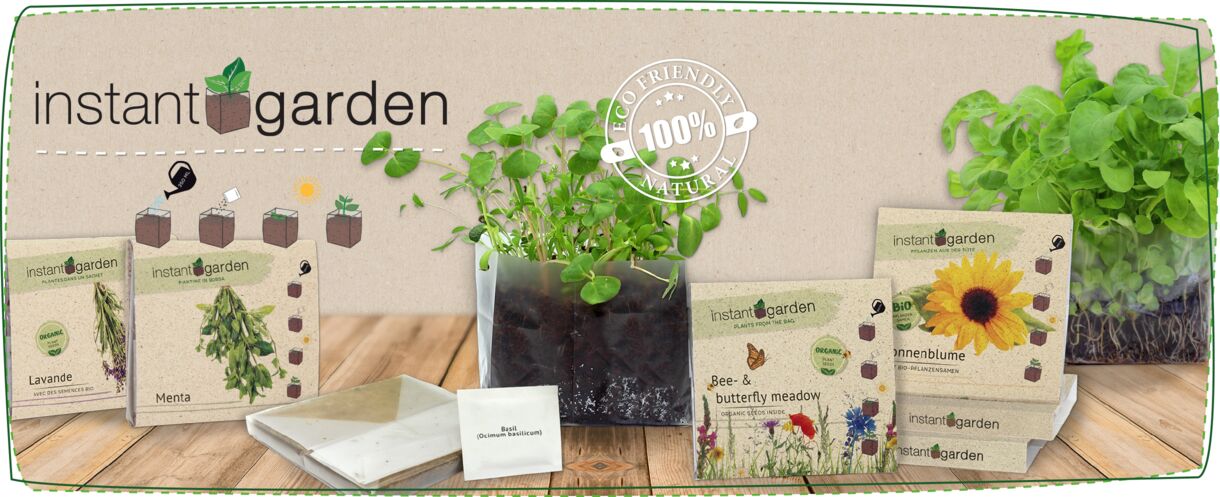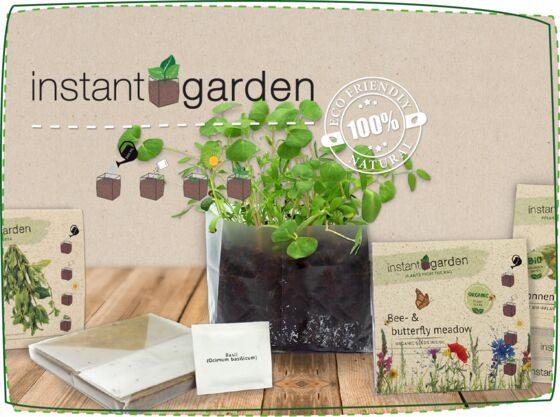 The slim instant garden growing sets offer everyone a quick and space-saving opportunity to plant fresh herbs at home on the windowsill and then harvest them for the first time a short time later. Compared to our other plant sets, the plants can grow and thrive in the large bag for up to 12 months due to the relatively large volume.
Detailed planting instructions can be found on the packaging sleeve. The band is printed on sustainable grass paper. Grass paper contains 50% fresh fibre from sun-dried grass and ensures a – literally – natural look.
Except for water, the mini garden bed already contains all the components you need to start immediately. In just a few simple steps, the narrow growing kit can be turned into a small garden for every sunny window sill. The instant garden is also useful for amateur cooks who value knowing where their ingredients come from.
...mehr
This is how you bring your instant garden to life
Creating your instant garden is very easy and can be done in about 5 minutes in just a few simple steps!
Erect the growing bag and add water to the coconut fibre tablet it contains. After a few minutes you will have a small mini garden bed. Now simply sow the enclosed plant seeds and place the instant garden in a bright, warm place and water it regularly. Depending on the type of plant selected, the first green seedlings will sprout after just a few days. After a few weeks you can pick the first leaves of your self-grown mini garden bed and use them to season dishes or refine cocktails!

...mehr
Details for reseller
Packaging
unit dimensions: 10.5 x 10 x 1.5 cm; ca. 65 g
minimum quantity: 30 grow kits per box
packaging unit: 6 pcs. per plant variety
Material
Available languages
German, English, French & Italian
Shelf life & storage
at least 2 years when stored in a dry place
Customized instant garden carrying your own design