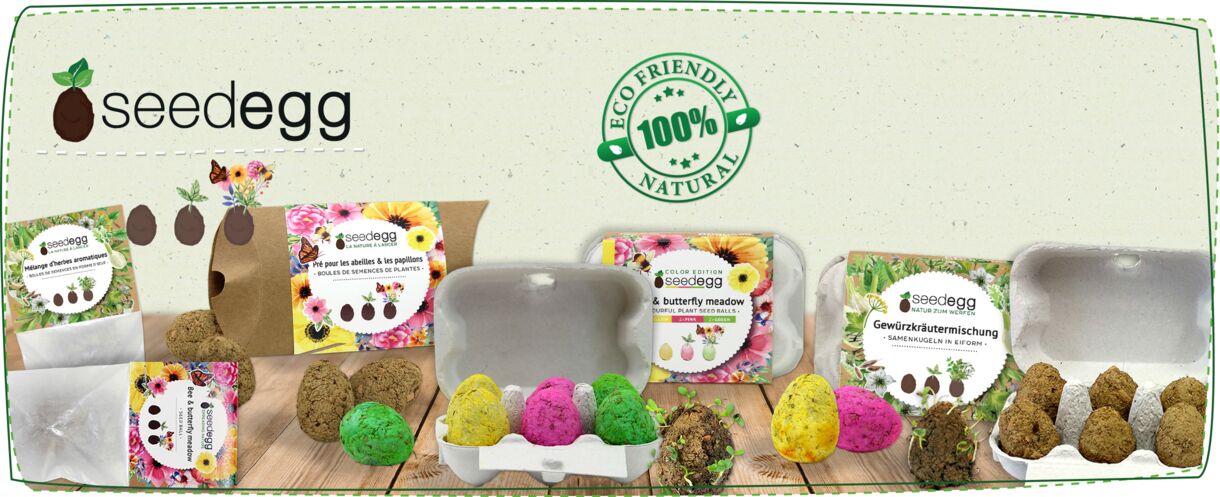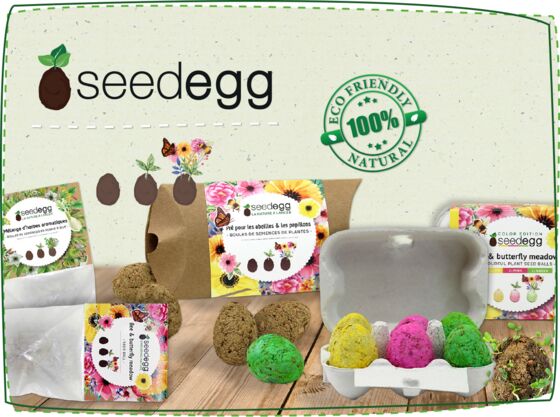 The easiest way to protect bees from extinction is to create a new habitat for the small, useful creatures yourself. For example, by planting flowers, trees and shrubs that make the bees' journey easier and provide the nectar they need for it.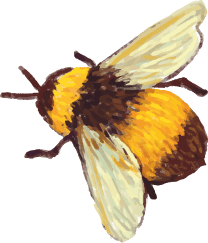 Our seedeggs are small but mighty! The small seedeggs transform green areas, flower beds or flower pots into a small, nutritious bee paradise or aromatic herb bed. The carefully handcrafted seedeggs consist exclusively of natural and mostly organically certified raw materials on the outside and inside and only need to be watered! With good care, the small egg-shaped natural seeds turn into colourful, useful flower meadows or delicate mini herb beds, which attract and feed bees, butterflies and many other useful insects!
Color edition: Speaking of colourful! If you prefer something colourful or would like to give away growing Easter eggs, you will find what you are looking for in our color edition! They are available in a practical 6-egg carton and with an equally natural powder based on corn starch and food colouring.
...mehr
This is how you bring your seedegg to life
Seedeggs can be "thrown" (= planted) in the garden, in the flower bed or on an empty green space – of course depending on the current season. The natural seed balls can also be planted in a flower pot (already filled with some soil) indoors all year round. Once a suitable spot has been found, the seedeggs only need to be watered moderately or they can wait outside for the next rain.
Moderate watering and sunlight are important for germination! A few days after watering, the natural egg slowly breaks apart and the first green plants gradually sprout from the seedegg. With a little patience, the green plants will turn into a small flower meadow or a small herb bed. After a few months, the first flower buds form and as soon as flowering begins, the meadow becomes a nutritious mini-paradise for bees, butterflies and many other useful insects! The herb bed will not be long in coming either and the first herbs can be used for refining and cooking a few weeks after cultivation.
...mehr
Bee & butterfly meadow
Mixed aromatic herbs & spices
Details for resellers
seedegg in the small package (1 pc. in quail-egg-size)
minimum quantity: 30 packages per box
unit dimensions: ca. 11.5 x 6.3 cm; ca. 12 g
seedegg in the quail egg carton packaging (6 pcs. in quail-egg-size)
minimum quantity: 30 egg cartons per box
unit dimensions: ca. 9.5 x 6.5 x 5.5 cm; ca. 55 g
Available languages
German, English, French & Italian
Shelf life & storage
at least 2 years when stored in a dry place
Customized seedegg carrying your own design