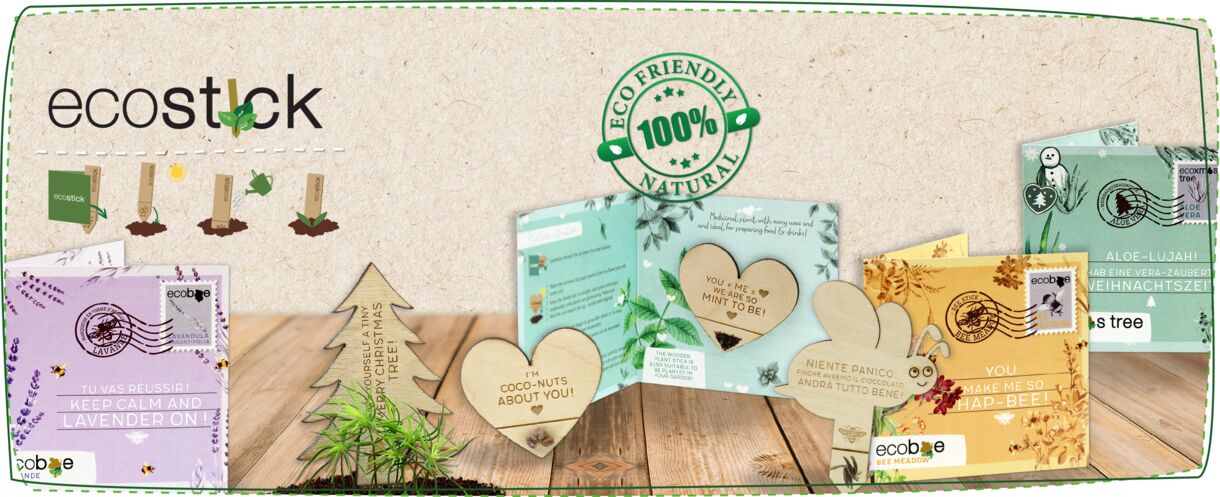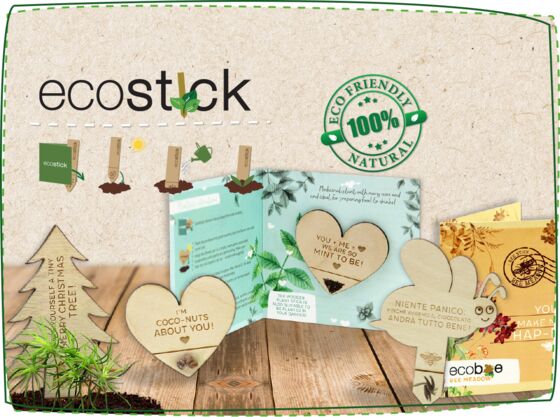 Let yourself be planted! Give away, send or deliver small messages of good luck in "postcard format" to plant yourself! We love unusual growing plant(s) ideas! Therefore, without further ado, we have recorded an unusual good luck message based on the respective plant variety and everything worth knowing about it in a narrow folding card. And this unusual greetings card really has it all - on the inside there is an engraved plant stick with seeds.
The foldable postcard is a small gift, a souvenir or a thank you in between, but can also be used flexibly as a mailing booster or gift for employees/colleagues. The wooden plant stick is engraved using a laser process, the plant seeds are then attached to it with natural glue and the finished wooden stick is glued into the card. Each step is carefully made by hand. The plant sticks are available from us in three special shapes: ecobee (bee shape), ecoheart (heart shape) and ecoxmas tree (Christmas tree shape). Of course, the instructions are always the same: carefully remove them from the booklet, plant them and take care of them regularly.
Produced with the utmost care and securely packaged, the plant stick then makes its way to its recipient in its "postcard" along with the special message of happiness.
...mehr
This is how the plant stick is brought to life
The plant stick can simply be planted in a conventional, small flower pot with some potting soil or it can be planted in a flower bed, in the garden, in a raised bed, etc. - depending on the type of plant and the current season. With the plant container, nothing stands in the way of a blossoming imagination! Of course, sufficient sunlight and moderate watering are important for germination.
And tada! After a few days, the first green seedlings appear. With a little patience, they will grow into larger plants, which after a few months will show the first signs of flowering or will begin to produce delicious vegetables and herbs. If the home-grown plant ends up getting too small in its previous container, simply transfer it into a larger flower pot or outdoors (depending on the season and plant variety).
The special feature: since the plant stick is made of natural materials, it will slowly decompose over time and become valuable fertilizer for the home-grown plant.

...mehr
ecobee
ecoheart
ecoxmas tree
Details for reseller
Packaging
dimensions - plant sticks:

ecobee 6.5 x 8.5 cm; ca. 6 g
ecoheart 5.8 x 5.2 cm; ca. 4 g
ecoxmas tree 5 x 8.5 cm; ca. 4 g

dimensions - booklet: 9.8 x 9.8 cm (folded); 19.6 x 9.8 cm (open)
minimum quantity: 30 pcs. per box
packaging unit: 6 pcs. per plant variety or per design
material
wood (source: EU)
Bio Top-paper (white)
natural glue
Available languages
German, English, French & Italian
Shelf life & storage
at least 2 years when stored in a dry place
Customized ecostick carrying your own design