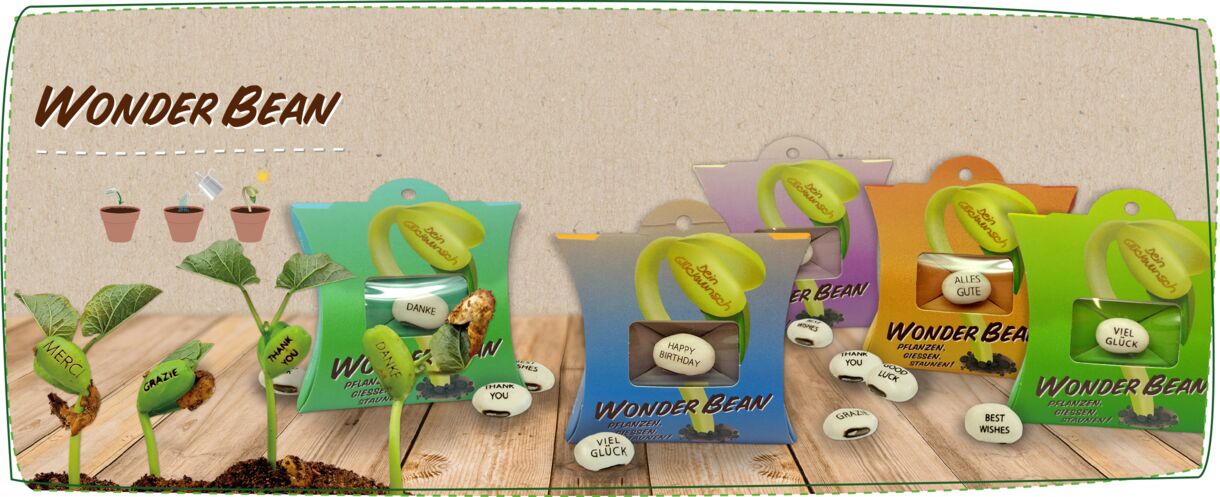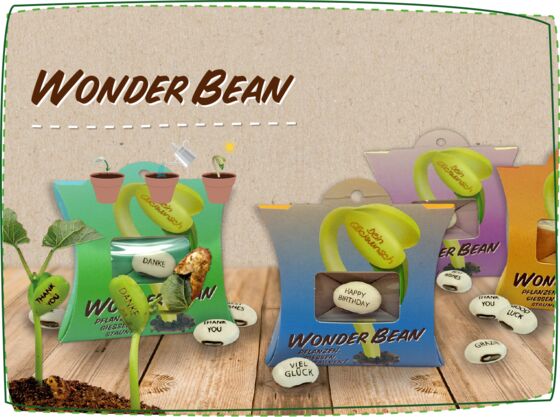 It's the little things that grow lasting friendships! Our Wonder Beans are the ideal token gift or little present, which in spite of, or maybe because of their size, show great attention to detail as every bean sprouts a unique greeting as it grows. We have the right bean for almost every occasion! In contrast to our other products, which come "Ready to grow", recipients can here plant, grow and care for their own Wonder Bean. And they are met with a unique greeting in return!

The Wonder Beans are definitely a very special alternative to ordinary greeting cards. Say it differently – say it through Wonder Bean! ;-)
Important note: Even though the Wonder Bean might look appetizing, it is not edible!
...mehr
This is how you bring your Wonder Bean to life
Just place your Wonder Bean into any flower pot with potting soil, water carefully and put the pot in a warm, bright spot – but don't forget about it there!
With some patience, care and regular watering, the bean will grow and the greeting with slowly unfold.

...mehr
Details for reseller
Packaging
unit dimensions: 9 x 8 x 2 cm; circa 12 g
minimum quantity: 30 Woder Beans per box
packaging unit: 6 pcs. per design
Material
Available languages
packaging availble in German only
provided planting instructions available in English, French or Italian
Shelf life & storage
at least 2 years when stored in a dry place
Customized Wonder Bean carrying your own design