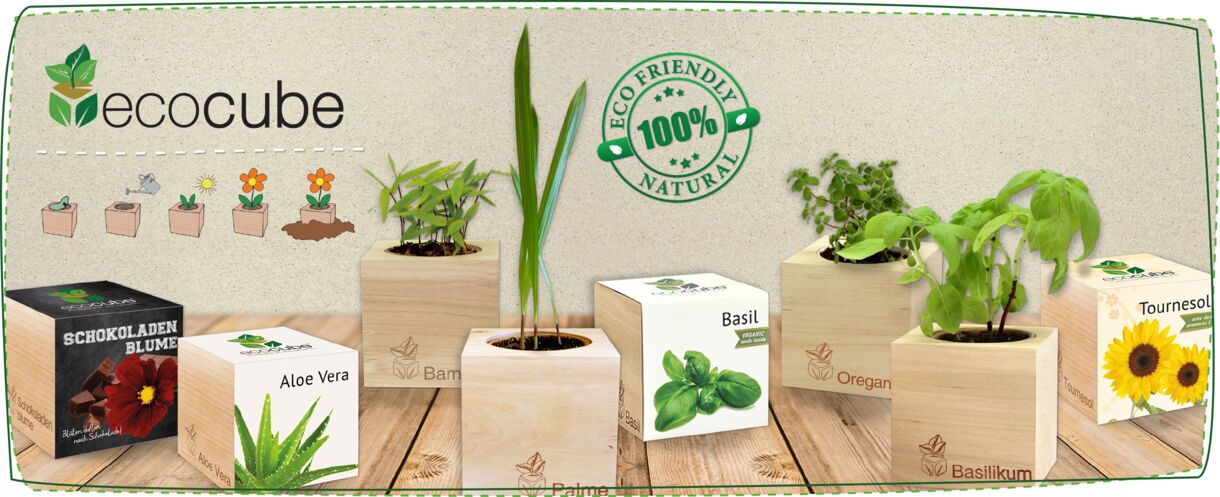 Our ecocubes are the epitome of a natural and sustainable gift item. In these decorative wooden cubes the seeds develop into flowers, herbs, Christmas trees or even a dwarf banana plant. Every cube is manufactured from high-quality alder wood, filled with special nutritional granulate and seeds, and sealed with a sticker against germination. The majority of the seeds we use are certified organic and are purchased from reputed seed dealers in Austria and Germany.
The ecocubes are not only a decorative eye catcher in the kitchen, living room or office – growing them also brings great joy.
...mehr
This is how you bring your ecocube to life:
Peel the sealing sticker off the cube, add a bit of water and place in a bright spot. The ecocube will come to life within a few days and small green seedlings will sprout out of the eco-cultivation kit. With good care, the seedlings will grow into bigger plants and can then be planted along with the wooden cube in a flowerpot or garden. Since our ecocubes are produced from 100% bio-degradable materials, they will slowly be composted and supply the plant with valuable nutrients.

...mehr
Flowers
Herbs
Exotics
Specials
Trend Line
Chili Selection
Xmas
Details for resellers
Packaging
30 cubes per box
optionally: decorative counter display
unit dimensions:
7.5 x 7.5 x 7.5 cm; 0.15 kg
display dimensions:
40 x 25 x 25 cm; 6.5 kg
selection defined by customer
Available languages
German, English, French & Italian
Shelf-life
The ecocubes have a shelf-life of at least two years if stored in a dry place.
Customized ecocube carrying your own design