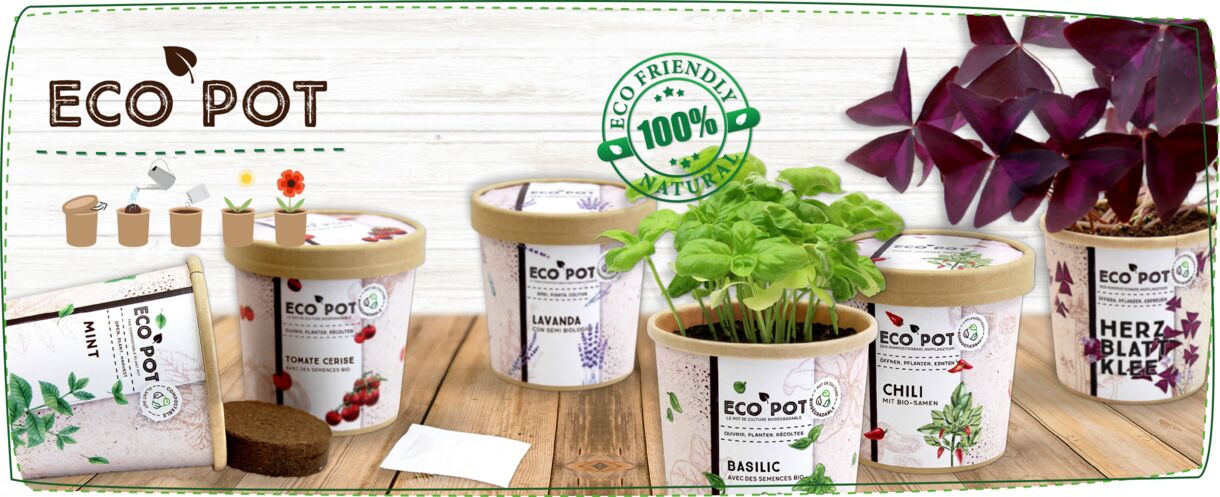 Our ecopots are a real eye catcher thanks to the colorful pots. These plant grow kits are made from pressed bamboo fibers and they pack quite a bit of content considering their small size. Namely, a coaster, coconut fiber tabs, a little seed bag and a little wooden plate where you can write down the names of the plants. Growing the little plants is great fun! And one more thing we can reveal – after just a few weeks, you will be able to use the herbs to even better refine your next dishes when you cook!
...mehr
This is how you bring your ecopot to life:
Just add water to the pot with the coconut fiber tabs. Then distribute the seeds and put the ecopot on the window sill. After a few days, you will be able to enjoy the first little sprouting plants and in just a few weeks, you can use the first herbs for cooking or refining your dishes.
...mehr
Details for resellers
Packaging
30 pots per box
unit dimensions: 8.5 x 7.5 cm; 0.10 kg
selection defined by customer
Available languages
German, English, French & Italian
Shelf-life

The ecopots have a shelf-life of at least two years if stored in a dry place.
Customized ecopot carrying your own design