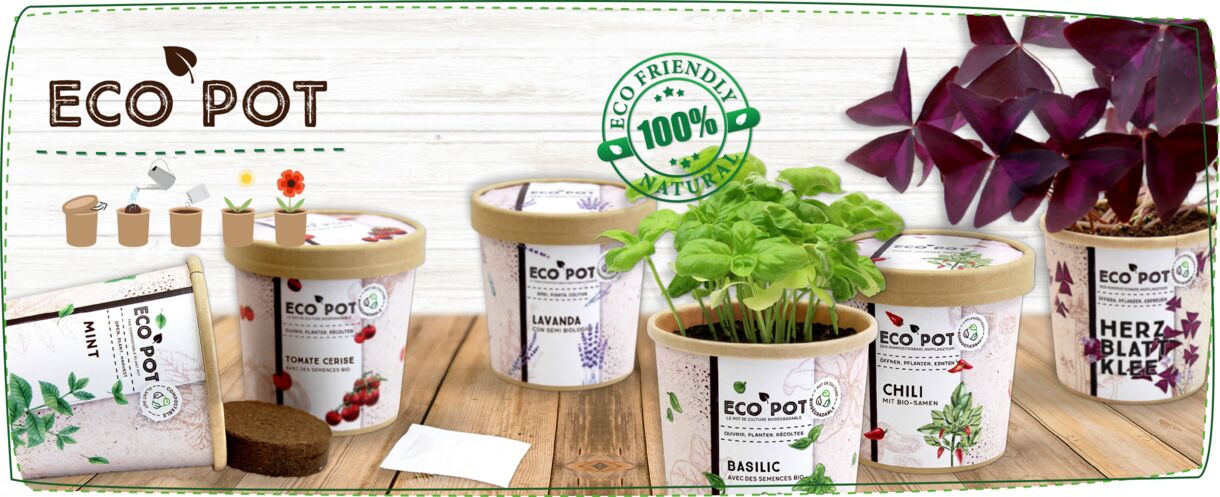 Our ecopots are real eye-catchers with their compostable, brown plant pots. From the outside to the inside, the planters are 100% compostable, as they are made of kraft paper and coated on the inside with a special organic coating. With a capacity of around 360ml, the self-planted herbs and flowers can grow and flourish in the planter for a long time. In each planter there are coconut fibre tablets and a bag with plant seeds, and precise planting instructions are placed on the packaging sleeve. Aromatic herbs and decorative flowers can be grown in a short time.
Growing the plants is a lot of fun and we can reveal one thing – after just a few weeks, the first herbs can be used to season a wide variety of dishes in the kitchen! Flowers need a little more patience until the very first blossoms, but then the final result is just as great! If it gets too tight for the plants, simply remove the sleeve around the cup and move the entire ecopot into a flower pot with some soil. The Kraft paper cup slowly and gradually turns into valuable nutrients for the plant. Sustainable planting and harvesting guaranteed!
...mehr
This is how you bring your ecopot to life:
Simply fill the planting cup with the coconut fibre tablets and add a little water. Then sow the seeds and place the ecopot on the windowsill. After a few days you will enjoy the first green shoots. Only a few weeks later you can use the leaves of your herbs to cook and season your dishes for the first time. The first blossoms from your little flowers will show up after a few months.
...mehr
Details for reseller
Packaging
unit dimensions: 8.5 x 7.5 cm; 0.10 kg
minimum quantity & packaging unit: 30 pots per box (6 pcs. per plant variety)
Material
coated kraft paper (corn starch layer on the inside)
Bio Top-paper (White)
Available languages
German, English, French & Italian
Shelf-life
shelf life of at least 2 years when stored in a dry place
Customized ecopot carrying your own design